Hario V60 Dripper Clear
Hario V60 Dripper.

The Hario V60 Dripper is a simple yet effective coffee brewing device that has gained popularity among coffee enthusiasts. It was designed and manufactured by Hario, a Japanese company that has been producing heatproof glassware since 1921. The V60 Dripper is named after its unique V-shape and 60-degree angle, which allows for a faster and more even extraction of coffee. It is made of high-quality ceramic or plastic and comes in different sizes to fit various brewing needs. The Hario V60 Dripper is easy to use and offers a clean and crisp cup of coffee that highlights the flavours and aromas of the beans. It has become a favourite among home brewers and coffee shops alike.
Filters sold separately.
What's Included:
1 x Hario V60 Dripper
1 x Bean Scoop
Features:
Materials: BPA-Free Clear Plastic
Brews: 1-4 coffees
Regular price
Sale price
$17.00
Unit price
per
PRE-PAY AND SAVE
Sold out
---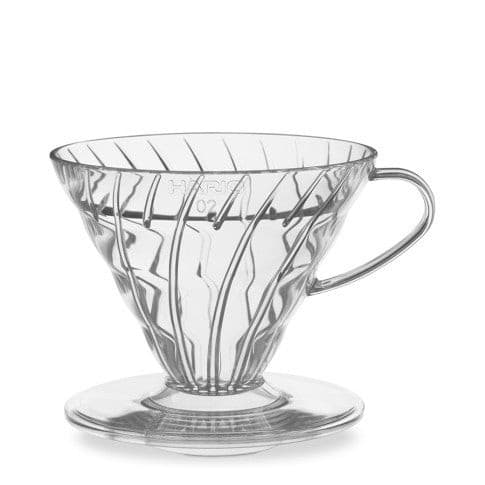 Pay As You Go

Pause, upgrade, or cancel your Perk Coffee subscription at any time.

Giftable

Our Pre-Paid subscriptions are the perfect gift for the coffee lover in your life!

Pre-Pay and Save

Sign up for 3, 6, or 12 months and you'll save up to 20% off your subscription!
Frequently Asked Questions
How Does It Work?

It's simple - just sign up to a Perk subscription of your choice, select how much coffee you'd like to receive each month and how/if you'd like it pre-ground, then we'll take care of the rest!

Pay As You Go fees will be debited automatically before your order is dispatched each month, and you can cancel anytime through the account you'll create at the checkout.

Pre-Paid subscriptions receive free shipping, are billed only once when the plan starts, and automatically cancel after the last instalment.
Can I cancel anytime?

Yes you sure can! As you are checking out, you'll have a chance to create your online account. Then, you can log in anytime to cancel, pause, or upgrade your subscription.
What makes Perk different?
3 Months

Pre-pay and save up to 5% on your subscription.

6 Months

Pre-pay and save up to 10% on your subscription.

12 Months

Pre-pay and save up to 20% on your subscription.