Welcome to your September Coffee Subscription!
We love coffee, it's obvious and the fact that you're here reading this speaks to your feelings toward specialty coffee too. As coffee snobs we naturally seek out excellence in coffee, we won't settle for mediocre and we're constantly looking for new, exciting coffees to showcase, this month is no exception.
Fresh Red Bomb Espresso, where it belongs.
One Coffee Snob - Select 
This month we are super excited to present three single origins sourced and imported by us. We are heavily invested in this industry both financially and emotionally, as such it only makes sense to support farmers and producers in every way we can. By buying direct we are ensuring that the maximum dollar per kg is going back into the hands of the people at the start of the supply chain while simultaneously creating unmatched value for our subscribers. Our premium offering this month is a rare Geisha produced by Lina Posada, this coffee was instantly special to us and we knew we had to secure some of it ASAP. Shortly after our shipment arrived in Australia this coffee placed fourth in Colombia's Cup of Excellence competition, this is a big deal! Lina's prices have risen substantially since then and we are happy to have been a part of the story.
If you've loved trying different roasters each month (we have too), don't worry. We will continue to seek out different roasters each month and maintain the awesome coffee subscription experience that our subscribers love!
One Coffee Snob – Select is available on demand anytime you would like to experience a high quality single origin to try a special process or maybe learn something new about coffee. We will focus on quality rather than quantity allowing us to select stunning micro lotes, purchased in a way that benefits the farmers and the consumer. This means investing in up and coming producers and discovering coffees that are exclusive to us and our subscribers in Australia.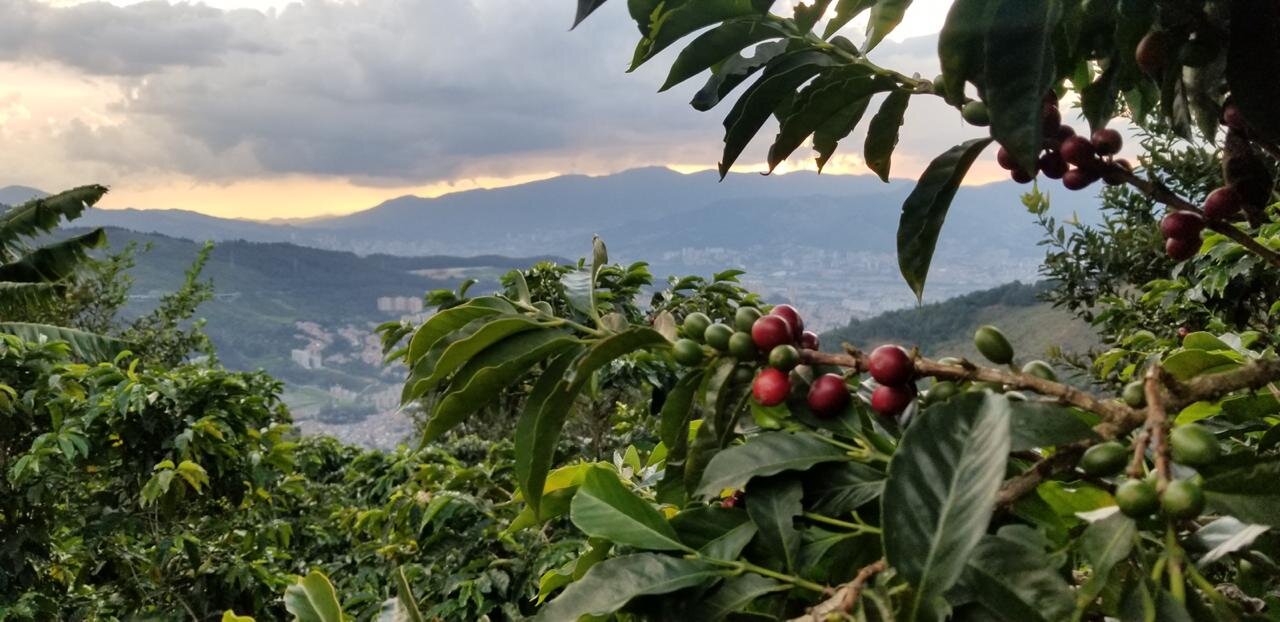 La Sierra - Overlooking Medellin, Colombia
Espresso and Filter
We fell in love with these two coffees while traveling through South America in February 2019. It just so happened that we found ourselves cupping at a roastery in Louralles, Medellin at around 11pm after being invited by some friends we met on Instagram, damn millennials.
La Sierra is a beautiful area overlooking Medellin, it's hard to believe that this peaceful place was considered a no go zone in the 90s and 00s due to the violent drug war and the cartels and rebel groups using the mountains to hide. Some locals will still look at you in disbelief when you mention that you have been or are going to visit the area. The Colombian coffee community was taken hostage during these times. Many farms were abandoned or taken by cartels then in the 2000s, coffee prices collapsed causing immense hardship to growers in Colombia. However, thankfully Colombians are extremely resilient and the coffee industry managed to survive and thrive thanks to the third wave coffee movement, we're drinking the benefits of this Colombian resilience today.
Espresso - Red Bomb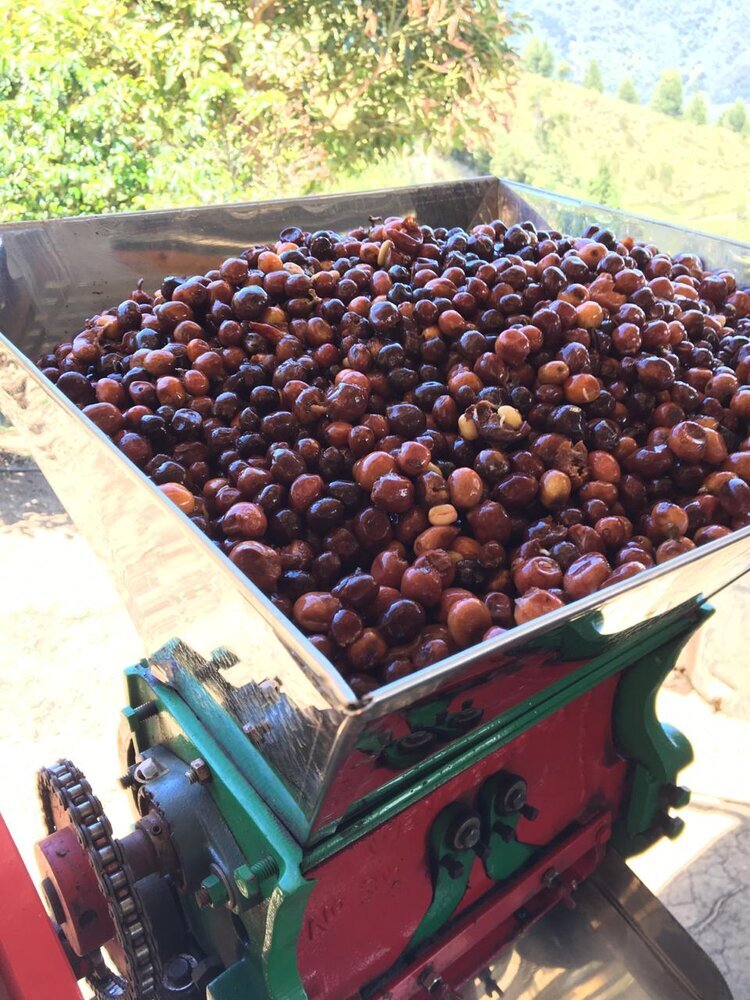 Manual de-pulping of the cherries in La Sierra, Colombia.
Origin - La Sierra - Antioquia, Colombia
Process -  Washed double fermentation (120 hours in the cherry for anaerobic fermentation (without oxygen) in temperature over 20 degrees - de-pulp in hand-powered machine - 50 hours of fermentation in mucilage (honey) without oxygen in low temperature and then dried in African beds in the sun.
Masl - 1700 - 2000m
Varietal - Castillo, caturra, pajarito
Tastes like - Toffee, blackcurrant and strawberry
---
Filter - Tropical Summer
Origin - La Sierra - Antioquia, Colombia
Process -  Manually de-pulped and started the lactic fermentation in muscilage or 'honey' for (170 hours) in low temperatures and dried in African beds. a lactic fermentation takes the naturally occurring bacterias and starts a fermentation process to turn the sugar into lactic acids which provide the coffee the unique profile and flavors. This is different from a fermentation in the cherry at slightly higher temperatures where the yeast would begin to activate and overpower the bacterias which gives the different profiles as seen in red bomb.
Masl - 1700 - 2000m
Varietal - Castillo, caturra, pajarito
Tastes like - Orange, Lemonade and grapefruit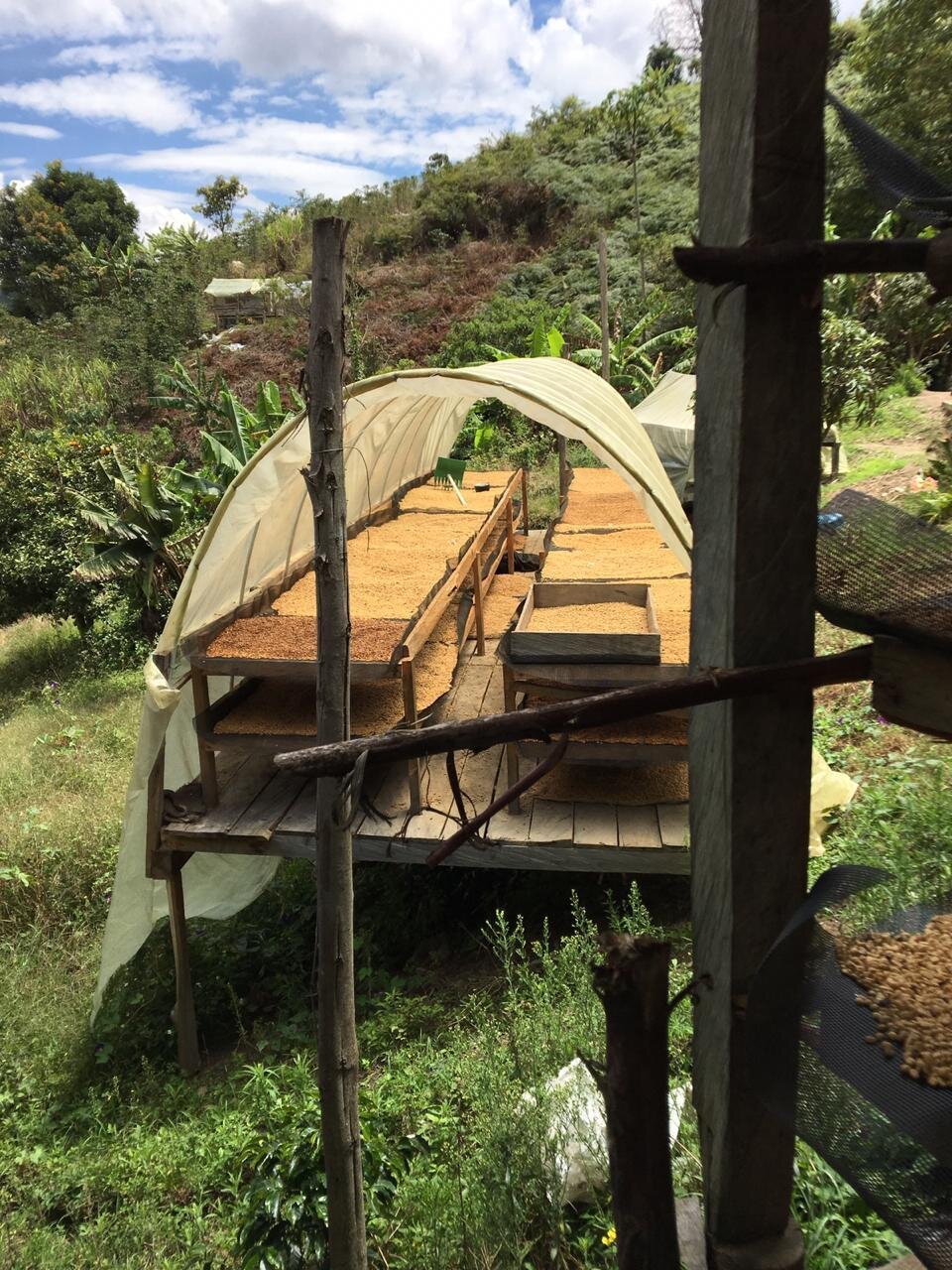 Tropical Summer taking a siesta…
---
Premium Option - Honey Geisha
Origin - Concordia, Colombia
MASL - 1800
Producer - Lina Posada
Process - Honey
Varietal - Geisha
Honey Geisha (omni roasted for espresso and filter methods) We're beyond excited about this coffee. The farm shares its name with the beautiful yellow trees it is filled with, Guyacan. With a a focus on biodiversity you will see the Guyacan trees scattered throughout the crops along with other plants like banana trees and other trees that provide shades to the coffee crops. Imported by One Coffee Snob shortly before placing Fourth in Comombia's Cup of Excellence Competition!
The fourth placing coffee in Colombia's 2021 Cup of Excellence competition, Lina Posada's Honey Geisha
Both La Sierra Coffee's will be available for purchase any time. Unfortunately we're now sold out of the lovely Honey Geisha, keep an eye out for our next releases!
Happy brewing
-CS