A shared roasting space, a Mount Lawley café, a passion for coffee and some forward thinking personalities. Put these together and what do we get?
Modus Coffee Roasters
Modus Coffee Roasters started in December 2016, founded by Sam Robins and Tobias Glass. After Modus decided to start roasting in 2018 they were joined by Rachel Elliott. These are three well known faces in the Perth coffee scene, together they share a wealth of knowledge and experience.
When we met with Rachel and Sam for the first time we discussed the ideas behind Modus, in particular the strategy used for sourcing green beans. Rather than trying to roast so many different origins and use farmers that they may not have a relationship with, Modus focus on developing lasting bonds with a select few farmers.
This approach allows farmers the security to experiment with different processes and reinvest in their businesses. The result is a sustainable future for the industry and better coffee for us! This month for the first time, we feature two identical single origin coffees roasted very differently from from farmer, Luis Anibal.
Luis is a third generation coffee farmer in Colombia and has lived and adapted through the significant change that has occurred in Colombia's coffee industry post government imposed restrictions being lifted. Luis is continuing to adapt and grow with the industry and the tastes of coffee snobs like us. 😋
"We started roasting in June 2018 when we launched a collaborative roasting space. Creating our own little local coffee community, learning from each other whilst roasting delicious coffee."
Beyond the ritual of coffee making and drinking, we wanted to create a space where minimising wastage is embraced for its ethical benefits, not just its economical ones. We employ like-minded people, treating them in a way that is respectful of their time and efforts, and we're committed to finding ethical ways of sourcing coffee and creating equitable relationships with the people that produce them.
We aim to showcase delicious coffees from around the world and roast them in a way that reflects their natural characteristics."
- Rachel Elliott on the farmer of both of our February featured roasts, Luis Anibal
"At the end of October 2019, Toby and I traveled to Colombia with Cofinet for one week. Meeting farmers and their families and tasting their coffee, seeing how they farm and process their coffee, and learning from their experiences and knowledge to broaden our understanding of the half of the coffee industry that is really the most important.

Luis Anibal Calderon's family have been growing coffee in Colombia for over 60 years. When Luis was only 7 years old, his father gifted him a small plot on his farm where he could grow whatever he chose (obviously he chose coffee!), care for it, and harvest himself. 15 years ago Luis bought Finca Villa Betulia, a 20 hectare farm in the mountains just outside of Acevedo in Huila, Colombia. The mountains surrounding Villa Betulia help create a little micro-climate with much lower average temperatures which makes for really clean, vibrant coffees at only 1600 MASL.

In most coffee producing countries, the C-Market (Coffee Commodity Market) fluctuations can cause a lot of financial stress and potential debt for farmers. Through Luis' partnership with importer Cofinet, he has been able to get through some turbulent times and put more money and resources into doing what he does best - growing some incredible exotic varieties and high quality processing, and knowing that he has a strong support network in Cofinet.

Luis' eldest son Arley has begun to attend the coffee school, La Primavera in Acevedo, learning a lot about processing, brewing and roasting to help Luis further increase his own knowledge and allow him to taste some of the incredible work that we absolutely love here in Australia, when he is sitting amongst the trees on his farm in Colombia. 

During our trip we went to a lot of farms and met many farmers, but meeting Luis was incredibly touching for both Toby and I as we have committed to purchasing Luis' coffee for the next three years. Being able to meet the family behind the beans was so special."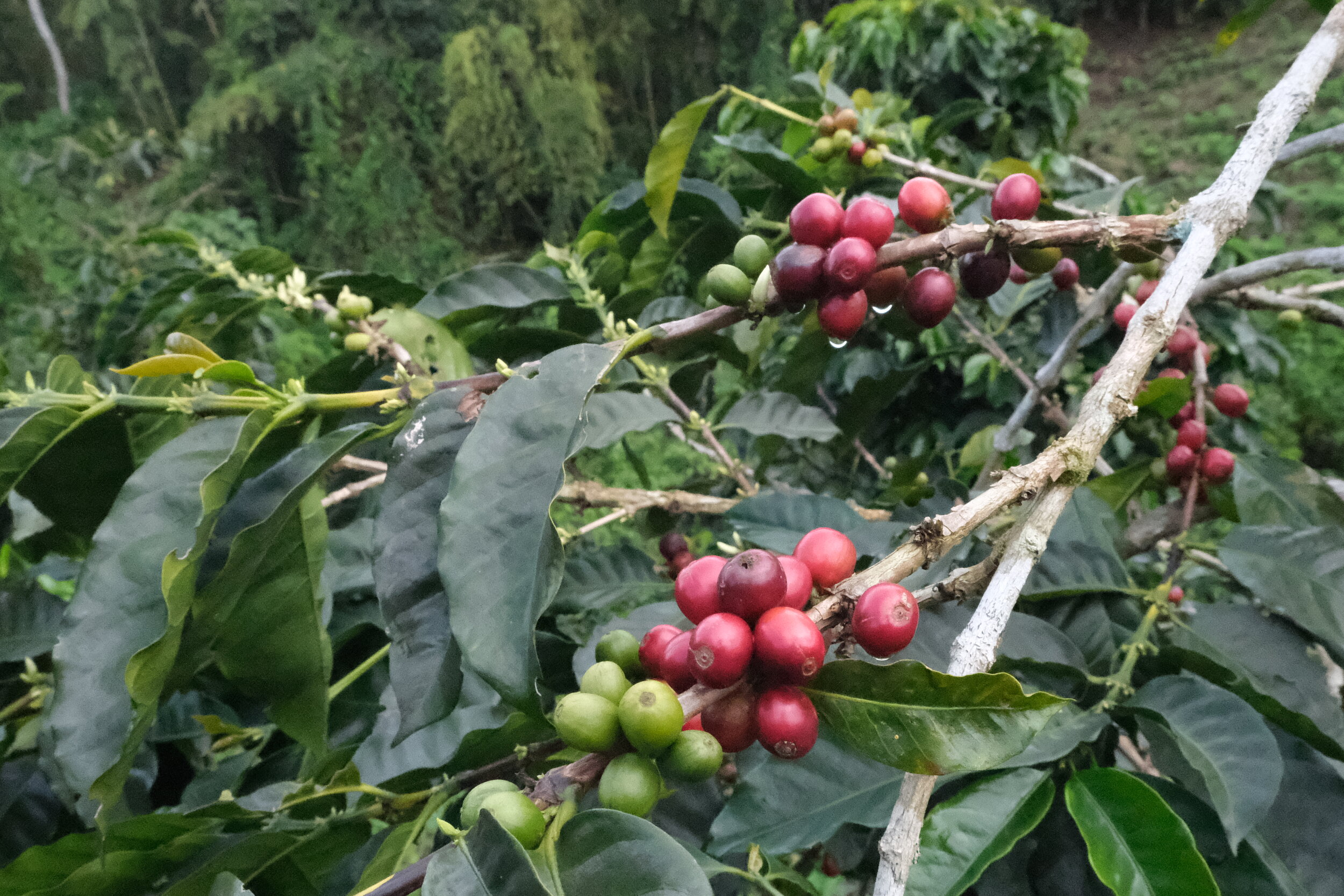 Featured roasts:
Espresso - Luis Anibal
Tasting notes - Citrus, orange, cacao
Origin - Huila, Colombia
Varietal -   Caturra
MASL - 1600
Process - washed
---
Filter - Luis Anibal
Tasting notes - Hazelnut, citrus, dark chocolate
Origin - Huila, Colombia
Varietal -   Caturra
MASL - 1600
Process - washed
This month for the first time we have featured the exact same coffee only roasted differently. If we were to choose any roaster to try this with it would be Modus. They have the strongest of strong relationships with the farmer Luis and know this coffee inside out. The results of this are definitely evident in the cup! ☕️🍒
Thank you to the whole team at Modus Coffee Roasters.
Happy brewing, Coffee Snob
Both of these amazing coffees are available until the end of February from our gift store.