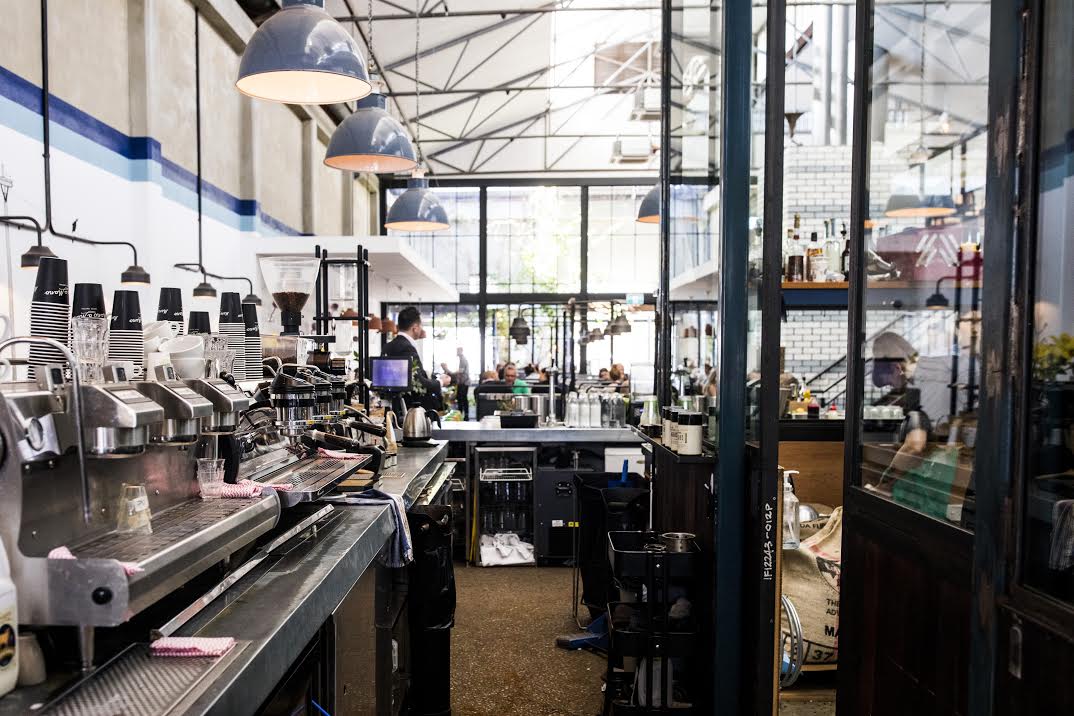 Anyone living in Perth will have no doubt heard of or at one time or another, treated themselves to brunch or dinner at the famous Gordon Street Garage. However, this month we are celebrating the other side of this venture.
A quiet achiever and go-to roaster for many, Mano a Mano skillfully roast seasonal micro lots and a signature blend that rivals the best roasters in the country. Mano a Mano have become a staple in the Perth scene and after tasting their roasts, it's not hard to see why.
Mano a Mano Coffee Roasters is a company divided, quite literally. With HQ on one side of the road and on the other the roaster situated inside Gordon Street Garage café, inside a glass box for all to see. The reason? Transparency, in everything we do. We at Mano are firm believers that to give someone a truly special caffeinated experience, we have to find coffee that is truly special. To do this we having long-standing relationships with green suppliers and farmers who understand our needs, as we support them in theirs. We do this by increasing the conversation around how coffee is produced. We bring the focus back to what is truly the secret to delicious coffee - the plant.
Mano A Mano are Omni roasters; meaning we don't have a "filter" or "espresso" roasts of the same coffee. Instead we create a roast profile for each individual coffee, which highlights each of the coffee's unique characteristics, and use the age since roast to determine what to use it for. Younger coffees for filter and older for espresso. That being said, our signature Mano blend is Omni roasted, and designed for espresso machines. By having crop forecasts and having a 50/50 split of coffee in the blend, we can maintain the flavour profile, throughout the ranging coffee harvests.
---
The coffees we have chosen to feature:
Filter: Edilberto Vergara, Colombia
Producer: Edilberto Vergara.
Estate: Edilberto Vergara.
Origin: San Isidro, Huila.
Variety: Caturra.
Process: wet.
Altitude: 1700-1800 masl.
Profile: Sweet and balanced.
Notes: Red grape and toffee.
Located within San Isidro, Huila, Edilberto Vergara's 8 acre farm sits between 1700 - 1800 MASL where he grows Caturra coffee trees. After the cherries have been carefully picked based on their level of ripeness, they are exposed to a 25 hour dry anaerobic fermentation. This fermentation period allows for the sugars in the coffee cherry to make their way into the seed, the coffee is then dried on parabolic beds after the seeds are washed to remove the mucilage using a very small amount of water.
---
Espresso: Mano Blend: 50% Peru / 50% Colombia.
Manta, Colombia.
Producer: varied.
Estate: varied.
Georgraphy: Valle de Tenza, Colombia.
Variety: Caturra and mixed varieties.
Process: wet.
Altitude: 1300-2000 masl.
A wet processed lot of caturra and mixed varieties from Valle de Tenza, Colombia.
Fronteras, Peru
Producer: Varied
Estate: Varied
Geography: Cajamarca, Peru.
Variety: Caturra, Bourbon, and typica varieties.
Process: wet.
Altitude: 1300-2000 masl.
Profile: Sweet and balanced.
Notes: Nectarine, hazelnut and chocolate.
We aim to blend coffees of different botanical varieties, geographical origins, and/or unique flavour profiles that, when combined, create a balanced, rich and clean espresso shot. While the ingredients change on a seasonal basis, dictated by cultivation and harvest cycles within each individual coffee growing region, our intention remains the same throughout the year.
Huge thank you to Bentley and Eisha and Josh for helping us to feature Mano a Mano this month, and to all our subscribers, happy holidays and enjoy…
CS
Photo credits: Danica Zuks