Sometimes you just have to go for it. For us, this is one of those times.
In 2019 we grabbed a backpack and travelled through Colombia to explore different coffee producing regions and meet some of the amazing people at the start of the supply chain. Initially this was just with the plan to learn about the coffee and café scene locally in Colombia, write some blog content and see first hand what goes into producing 87+ point coffee. We got more than we could've wished for and met some incredible people and tasted our way through the countryside with OCS owner, Kyle's Aeropress getting a serious workout every day!
This month we feature three single origin coffees sourced and imported by us, for you.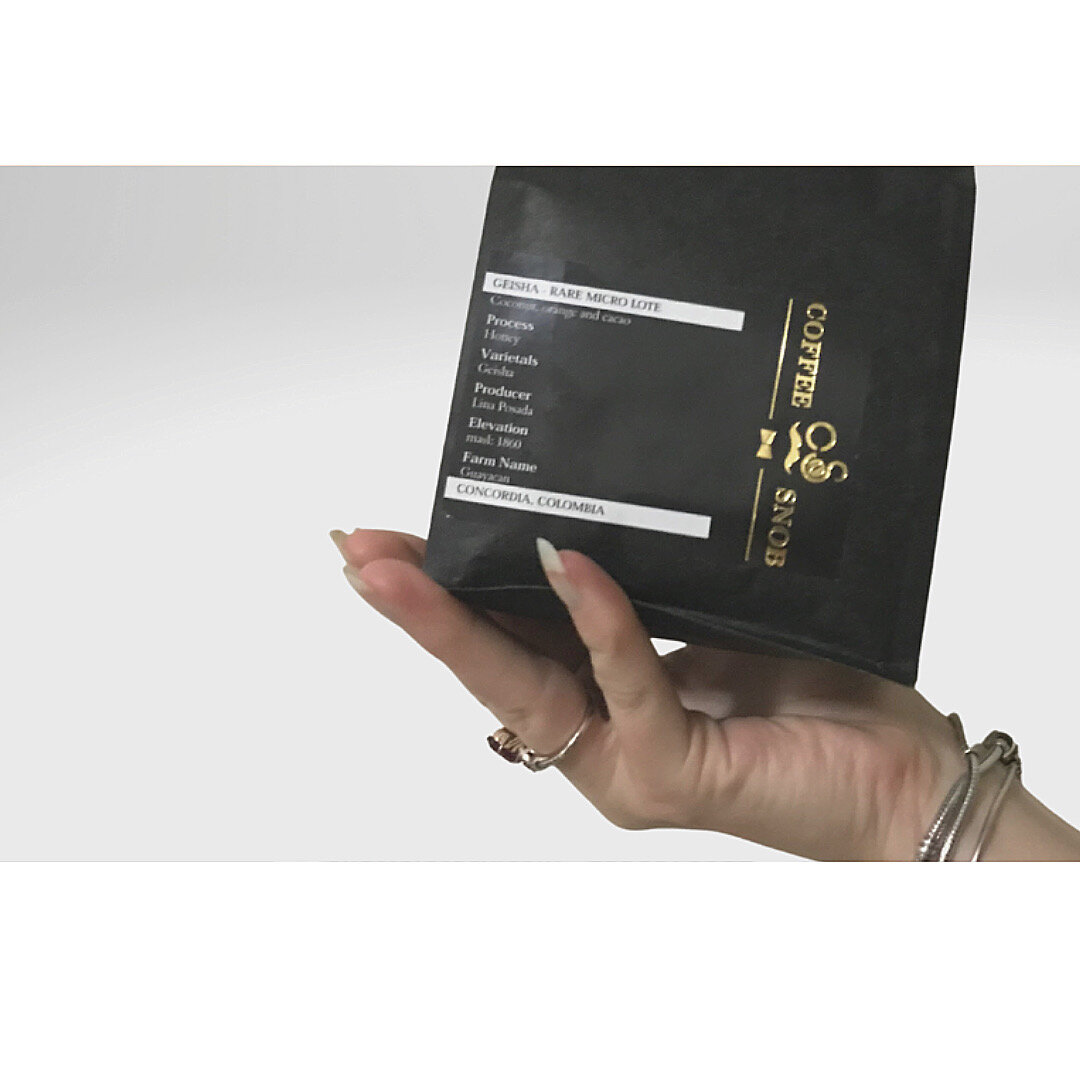 Our honey processed Geisha from Lina Posada - Concordia, Colombia
After trying some truly beautiful coffees, we made the decision to buy direct and import our own coffee to Australia. This decision wasn't taken lightly but it was one we couldn't pass up as it would give us the ability to support small and micro farms and simultaneously create exceptional value for our subscribers. We've always had a focus on sustainable consumerism and sustainable coffee sourcing, from our compostable packaging to the way we select roasters to feature but this project allows us to ensure that the farmers at the start of the supply chain directly benefit from our business.
Next month we will revert back to featuring a different roaster each month, however all One Coffee Snob signature coffees will be available from our gift store for future purchase P.S. subscribers get 20% off, check your inbox or email us for details.
---
Now enough intro and on to the important part, the April featured coffee!
Filter - Las Brisas, a fruity filter that is sure to please even the most experienced coffee snobs.
Origin - Pereira, Antioquia - Colombia
Farm name - Las Brisas
Varietal - Catiope, Caturra, Colombia
Process - Washed
Tasting Notes - Strawberry, orange and tangerine
MASL - 1400 – 1600m
Farmer - Juan and Manuel (Father and son) are the leaders of the production in the LAS BRISAS farm which is a farm of approximately 40 productive hectares including their neighbours. Juan is the third generation of coffee growers in his family and Manuel has also been prominent in the roasted coffee business under the MOARA brand giving him a unique insight into the coffee world. Las Brisas operate under the premise of efficiency and quality. They have innovated in processes such as reducing the use of water in the coffee mill (wet mill) and also in fermentation processes. Juan has also been a visionary who worked in large exporters years ago under the premise of bringing the best of Colombian coffee to the international market. nowadays he gets excited every time Las Brisas coffee reaches new customers in new markets. 
Las Brisas origins comes from Pereira, one of the greenest cities in Colombia. It is a drinking water factory thanks to the Otún Lagoon, the largest lagoon in Colombia and a tourist site that is worth visiting. Pereira turned 157 years old on August 30, 2020, after being founded in 1863, and is located throughout the center of the Coffee Triangle or Eje Cafetero, an Ecoregion that is home to 2.4 million inhabitants. Pereira has also a great location, is in the middle of the Golden Triangle, a region made up of the country's main cities and centers of consumption: Medellín, Cali and Bogotá. Since it's so green, it makes for the best agriculture environment and of course coffee is no exception. It offers not only rich origins but also great innovation processes due to its close proximity to other coffee regions.
---
Espresso - El Leon, our most 'espresso' espresso yet! El Leon is bold and holds its own as an espresso shot but completely changes when mixed with milk to provide a relaxed Sunday morning in a cup.
Origin - Salgar, Antioquia - Colombia
Farm name - El Leon
Varietal - Castillo and Colombia
Process - Washed
Tasting Notes - Dark chocolate, hazelnut and caramel
MASL - 1800 – 2100m
Salgar is a beautiful town surrounded by mountains that Colombians refer to as the small Medellin. However, it is also a town that has been affected badly in the recent past by social and environmental problems. The town was occupied by guerrilla forces, and in 1983 and the father of a soon-to-be president Uribe was murdered there. More recently a tragedy occurred when 20% of the population was displaced due to an avalanche that caused major flooding in the river of Salgar, "El Barroso." During this time coffee remained the only viable alternative for the people of Salgar to earn a living. The community displayed perseverance, overcoming challenge after challenge that was placed in their hands. New generations were born and raised around this culture of working together, turning Salgar into an epicenter of coffee production.
---

OCS Select - Geisha (omni roasted for espresso and filter methods) We're beyond excited about this coffee, our first Geisha and a honey process at that. Our OCS Select subscribers are truly spoilt this month!
Origin - Concordia, Antioquia - Colombia
Farm name - Guayacan
Varietal - Geisha
Process - Honey
Tasting Notes - Floral notes surrounded by coconut, orange and cacao notes
MASL - 1860m
This municipality of Concordia is an ecotourism paradise and in its many paths and natural viewpoints the landscape remains the same that has given wealth to the Southwest: immense coffee crops. These origins, all located in the areas of high altitude above sea level in this municipality, are part of the representative landscape of Concordia.
Lina has been competing lately in local competitions and her coffee is scoring very highly. Currently this coffee is a finalist in a local Colombian cup of excellence style competition. We anticipate in the very short term her farm and and coffee will both growth locally in Antioquia and strongly internationally, grab a bag to see why!
---
Thank you to all of the hard working people that have put so much effort into creating a high level product for us to discover and enjoy. #supportcoffeefarmers