Hello to all Coffee Snobs returning this month. To our new subscribers - welcome and please take your seats! April's featured roaster is here.
Since starting our coffee journey around Perth we have always intended to feature these guys. They come with punchy blends, immaculate single origins and a quirky design mentality that manifests throughout their products.
Ladies and gentlemen, please put your hands together for April's featured roaster, Grouch & Co.
We absolutely love discovering different roasters (obviously) and when we first stumbled across Grouch & Co it was clear that the team are very serious about their coffee. To anyone visiting or living in Perth, we strongly encourage you to check out the concept store in Myaree. At Grouch & Co you can view the roasting process while grabbing a cup of excellence from the supremely knowledgeable and talented baristas.
Now over to Matt Goncalves of Grouch & Co to tell us a little about the roastery.
"Grouch and Co started from a desire to make coffee better, simple as that. We start all of our coffee journeys with incredible green coffee, strong relationships with the producer and supplier along with a can-do attitude. All of our coffee is roasted to perfection in small batches out of our concept store in Myaree. We serve it in liquid gold form, right next to the roaster so all of our customers get a wholesome experience and are able to watch the entire process whilst sipping their morning coffee.
We really love being able to show our customers that everything they drink in our concept store we produce on site with love and care."
"We strive to be true to the flavour of the origin and the hard work put in by the farmer. This is what our roasters are aiming to achieve when they tackle a roast."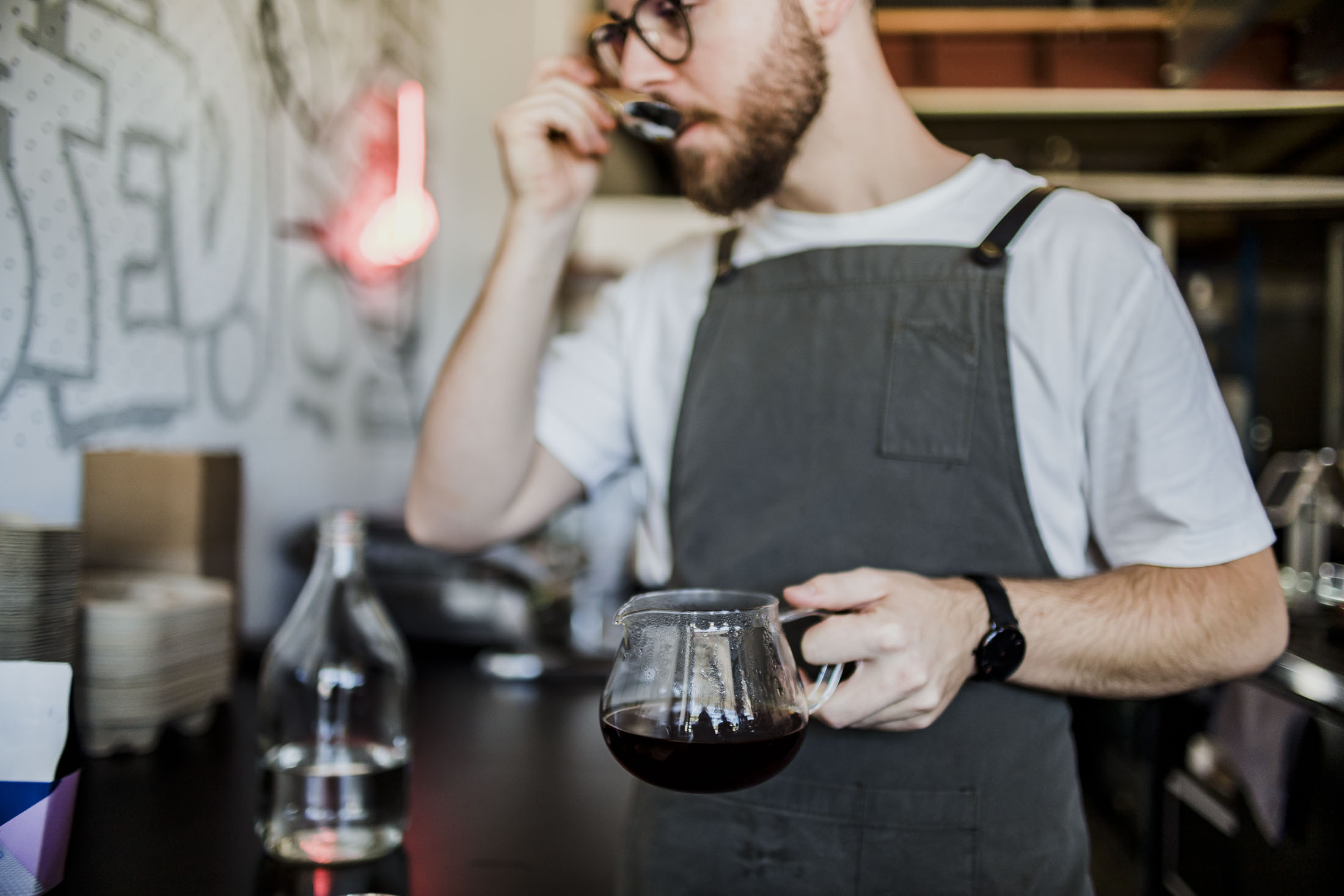 "We believe in great coffee for the masses. We aim to roast something for everyone, be it a light roast washed Ethiopian or our darkest blend Benda. We believe we have a coffee for everyone's taste and it doesn't have to come from the supermarket."
We have added the extended tasting notes from the Grouch & Co website as they are too good not to share! The month's featured roasts are…
Espresso:
Sparky – This is our premium blend; It's seasonal with the beans constantly changing.
Currently, Sparky is make up of two Colombians that give the blend great sweetness, body and a balanced acidity with hits of chocolate up front and a lingering red apple crunch. Smash Sparky back with milk or have it black, this blend will add that spark you've been searching for and does it all.
"Designed to pair perfectly with milk, this blend is smoother than an R Kelly mix tape in your mum's Cortina. This D O double G has notes of nougat, toffee, chocolate with a fresh as finish of red apple acidity. In milk Sparky gives you malt chocolate and black forest punches."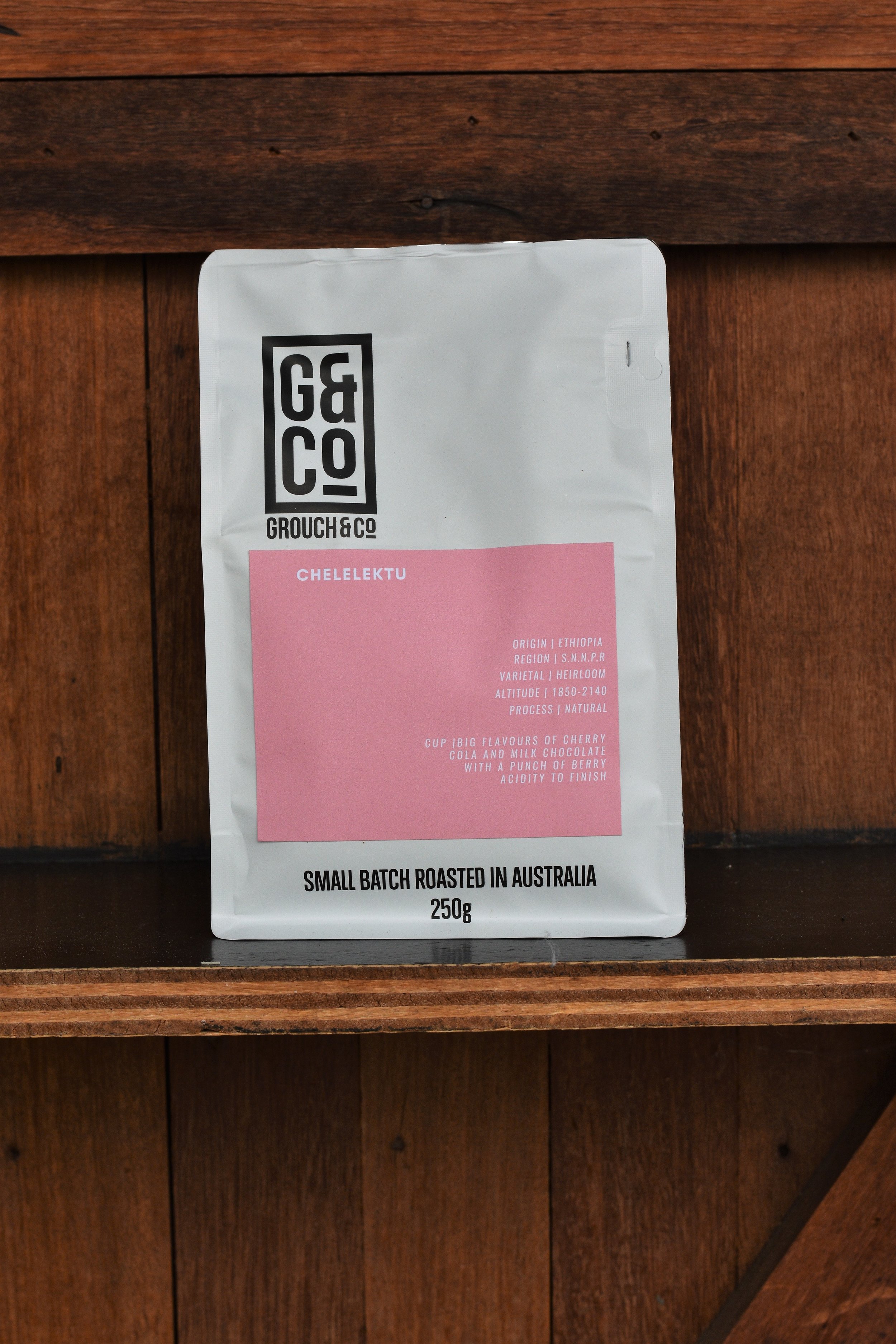 Filter:
Chelelektu - This naturally processed Ethiopian heirloom is a stunning coffee to have on filter.
This coffee comes from the Chelelektu mill, located in the Southern Nations, Nationalities, and Peoples Region. Grown at 1850-2140masl it has BIG flavours of cherry, cola and milk chocolate with a punch of berry acidity to finish! We love our naturals and Chelelektu is a current staff favourite.
Sounds like: The Beatles - Here Comes the Sun
Smells like: A large bunch of flowers on your parents kitchen table which fills the room with amazing floral aromas.
Looks like: Ya best mate in the middle of hay fever season, think red, puffy and pollen everywhere!
Tastes like: Big flavours of cherry, cola and milk chocolate with a punch of berry acidity to finish
Feels like: A punch in the arm from ya mate who forgets how strong he is…ouch  
BEST SUITED FOR: Filter baby filter!
Thanks to Grouch & Co for being our featured roaster this month and thanks to all of our Coffee Snobs - we hope you love your roasts!
-CS